Let's Get Trendy! Part 1 of 3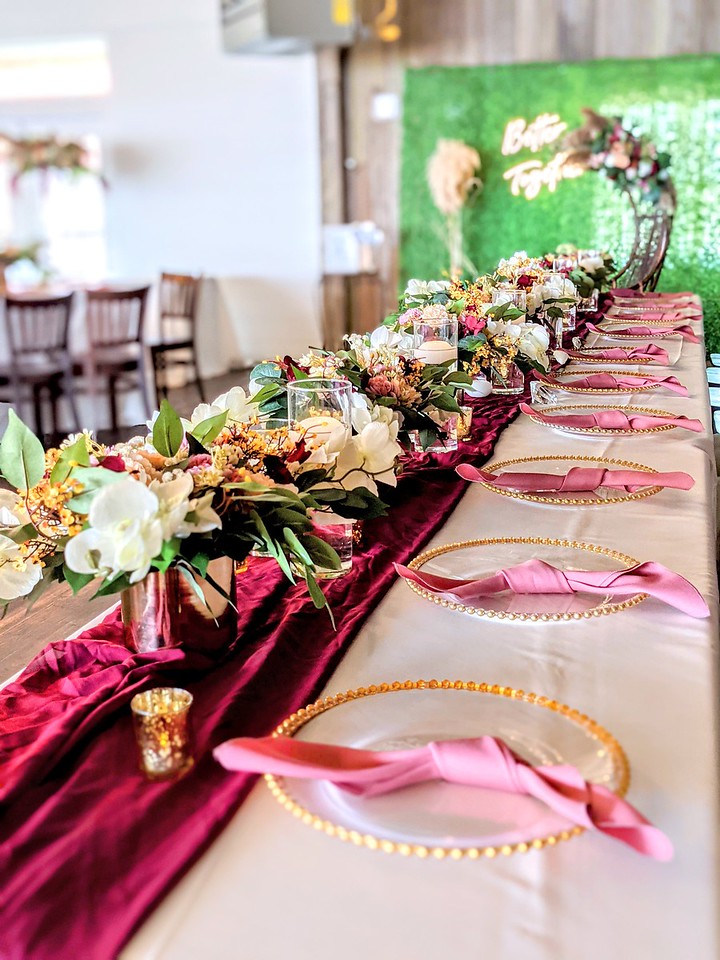 What are the most popular wedding trends happening in 2023? If you're newly engaged and planning your wedding this year, its time to start looking at the trends that will help your wedding stand out. Whether you're looking to follow the trends and be right on par with others OR hoping to be completely unique and not follow the trends at all this wedding season, we've got the list to help you decide.
Colors: A lot of couples pick a color that suits the time of year they're getting married, as well as their personalities. If you are a minimalist couple, you may opt for a clean and elegant style with muted colors. If you like to party, you may opt for a more bold color palette with unique accent décor. There are so many different styles to choose from, but here are the most popular we expect to see in 2023.
1. Magenta – Listed as Pantone's Color of the year, we expect to see lots of brides incorporating this bold pink color to their inspiration. If you're looking for bold and dramatic, Magenta would be an excellent way to go.
2. Dusty Blue – This color scheme has been on the rise for the last several years in the wedding world, and we don't anticipate it ending anytime soon. It's perfect for a coastal beach wedding or even a classy, formal affair. Dress it up with pops of gold accents or dress it down by adding in driftwood pieces into your décor!
3. Dark, Muted Tones – This isn't a distinct color per say, it is more of a moody palette entirely. In 2023, brides are screaming Bold and Moody when it comes to colors, and we are here for it!
Themes: Some couples opt for a whole theme for their wedding day as opposed to just using a color palette. A particular theme could take your wedding day to the next level! A lot of unique themes are trending this year, let's see if any of the trending themes fit your style:
1. Sustainable Boho – plenty couples are switching to eco friendly events. Couples are using bio-degradable dishes and décor, opting for more natural plants and things that can be reused instead of discarded, and choosing an earthy tone color palette to match that theme. This is one of our favorite trends to see rising up in the ranks! Taking care of mother earth while celebrating the love you share is truly an inspiration. 
2. Bold and Moody – We have already touched on this where color is concerned. It is such a popular wedding look that a Bold and Moody décor theme is taking the wedding world by storm. From the classy, traditional Black and White to a deep, rich Emerald and Gold theme, Moody weddings are definitely increasing in popularity.
3. Clean Zen – if you are a minimalist personality, this wedding theme is for you. Featuring simplicity and unity, this monochromatic theme is stunningly elegant! I think this is a perfect theme to celebrate a marriage because it focuses on Unity and Peace, which is what should surround anyone's wedding day.
4. Celestial Metallic – various types of metal wedding décor are making their return, slowly but surely. And mixing metallic décor and accents in with celestial themes makes for an extra dreamy wedding night. Add in pops of the sky with twinkling fairy lights and a silver moon backdrop, and you'll find yourself lost in the night sky! This is a great theme to mix with a dark and moody color palette if you're looking to have a dramatic wedding vibe.
Photo Credit: The Knot "Our Favorite Celestial Wedding Ideas for a Starry Night"
5. Guerilla Weddings – these are increasing in popularity ever since the Covid days. A lot of brides and grooms during that time found themselves getting married at home, alone in their living room, with a virtual officiant because no one knew what was to come. Who knew this would develop into a trend almost 3 years later? Spontaneous and Intimate ceremonies at home or somewhere randomly in public are turning out to be a new way to get married and make spectacular memories!
SOURCES:
The Wedding Shop Team
Vogue
Wedding Forward
Wedding Wire
The Knot
PHOTO CREDITS:
The Wedding Shop Photographers (unless otherwise noted)
Leave a comment